Music Roll Scanning
Wurlitzer Paper Music Roll Scanning
Compiled by: David Back June 2013. Updated August 2013.
Index
Music rolls were developed in the mid to late 1800's. Until recently much of the music on these rolls was in danger of being lost as the paper media deteriorated by the normal ageing processes. Richard Stibbons pioneered the work of converting the punched paper music into digital form.

However the Wurlitzer Band Organ Rolls used on this site were originally scanned by Terry Smythe who has developed and built his own roll scanner.

Terry has a background in government administration and management and was not well equipped to carry out this kind of project. His scanner started out in life as a rusty old AutoTypist roll frame, an early automatic typewriter built around pneumatic player piano technology. According to him he enlisted help from Richard Stibbons, Jim Cullen, Bob Pinsker, Albert deBoer, Warren Trachtman, Gene Gerety, Spencer Chase, Kevin Keymer, Jack Breen, Ross Chapman, Bill Earnest, Peter Phillips, Wes Melander, Milton Schenk, James Stoyka, John Klassen, Henry Bohncke, Bill Flynt, plus possibly a few others.

Finally he produced the working roll scanner shown below.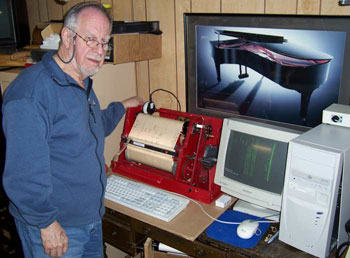 Scanning the roll is only the first step which converts it into a bit map format which can then be electronically processed to produce whatever results are desired.
I currently do not know how Terry converted his scans to midi (some of the midi files contain the words "Rendered by Kevin Keymer"), but do know the files contained all the necessary information (except the control tracks) to allow me to process them with a midi editor and subsequently make the Band Organ Music on this site.